Thirty-Two Teams in 2018
February 24, 2018 -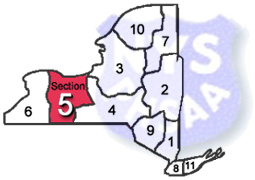 This year there are thirty-two teams play in the Section as the result of Greece forming one team from two. All four schools in Greece will come together to form "the Storm". Just before the season started, Romulus joined Mynderse Academy for a combined team.
The thirty-two teams are divided among four classes that compete for Sectional championships and later, the New York State tournaments. Generally, schools with 1,075 or more students are in Class A (6 teams). Schools with 790 to 1,074 are in Class B (11 teams). Schools with 475-789 teams are in Class C (4 teams) and schools with 474 or less are in Class C (11 teams).
Again this year, Pittsford elected to move up to play in the Class A group.
---
Teams no longer playing
Athena-Odyssey - The Thunder combined with the Lightning to form one team in 2018
East Rochester - East Rochester dropped their Varsity team in 2018 to focus on building from the lower levels
Livonia - Livonia combined with Avon in 2022
Midlakes - Midlakes ended their program before the 2018 season.
Mynderse - Mynderse combined with Romulus in 2018
Newark -
Olympia-Arcadia - The Thunder combined with the Lightning to form one team in 2018