Wednesday - BK over Livonia-Avon
There were thirteen games played on Wednesday. Bishop Kearney won their second game in two days, by one goal. Schroeder won the Webster game by a goal when they beat Thomas 9-8.
BISHOP KEARNEY 11 - LIVONIA-AVON 10 - Bishop Kearney earned its second consecutive win, defeating Livonia-Avon by a score of 11 to 10. Kylie Buckley had an outstanding game in a losing effort for the Bulldogs, tallying six goals and an assist to go with six draw controls, three ground balls, and two caused turnovers. Mia Martucio had 11 saves. Bishop Kearney hosts Eastridge Friday; on Monday, Livonia-Avon visits Wayne. There were no statistics reported from Bishop Kearney at post time. [BOXSCORE]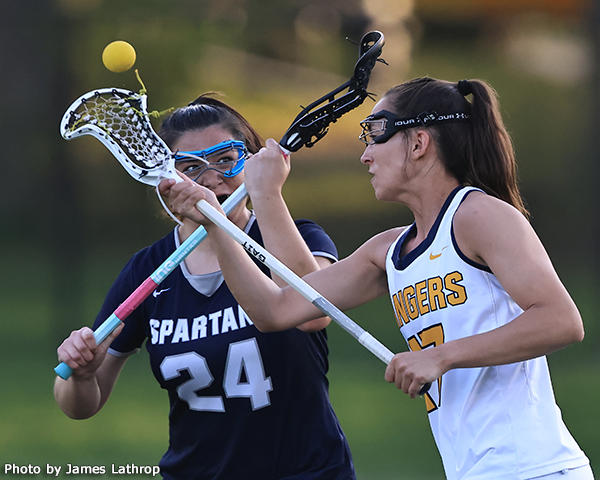 CLARENCE 12 - AQUINAS 15 - Aquinas traveled to Clarence (section 6) and returned home with a 15-12 victory. Aquinas is 11-2. Mackenna Brown (3g/5a), Savannah Hinchcliffe (3g/1a), Carissa Schneider (3g), Gianna Leonardi (2g/3a), and Sienna Hinchcliffe (4g/4a) accounted for all the scoring for the Little Irish. Aquinas takes on class D rival Penn Yan Friday. [BOXSCORE]
GANANDA-MARION 3 - GENEVA 19 - Geneva evened their record to 6-6 tonight, walloping Gananda-Marion 19-3. 7 of Geneva's 8 scorers logged 3 points or more, lead by 5-point efforts by Allie Good (5g), Katelyn Ikle (1g-4a), and Mikayla Myer (2g-3a). Sophie Heieck and Rylie McGhan each dropped 2 goals and 2 assists, while Heck also scooped 6 GB's and caused 5 turnovers. Isabella Bonventre and Grace Validzic each scored a trio of goals themselves in the lopsided contest. No book was submitted for Gananda-Marion at time of post. [BOXSCORE]
MARCUS WHITMAN 3 - PAL-MAC 17 - Marcus Whitman proved no match for Pal-Mac, falling 17-3 to the Red Raiders this evening in Marcus Whitman. Kylie Waeghe (5g), Anna Priebe (4g), and Reagan Diehl (3g-1a) were the most prolific goal scorers for Pal-Mac, while Molly Seither showed great field vision in dishing out 3 assists. Jolie Bourgeois (1g-2a) also had a 3 point night. No book was submitted for Marcus Whitman at time of post. [BOXSCORE]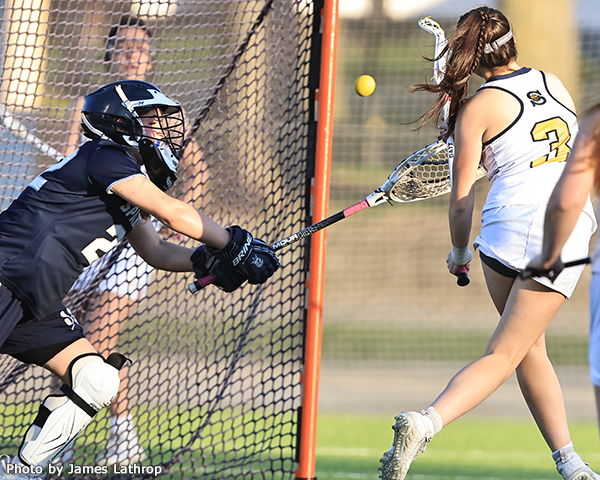 PENN YAN 13 - WAYNE 1 - Penn Yan jumped out to a 10-0 halftime lead and cruised to a 13-1 win over Wayne. Leading scorers for the Mustangs were Corinne Barden (1g/3a), Ruby Berry (2g), Bailey Cooper (2g/3a), Jammie Decker (2g), and Maihue Miranda-Wiltberger (3g). Bailey Cooper also had eight draw controls. Mimi Ugalde had six saves for the Eagles, who host Brockport on Friday. [BOXSCORE]
CANADAIGUA 13 - BRIGHTON 6 - The Canandaigua Braves defended Braves Field against the Brighton Bruins tonight by a score of 13-6. Fueled by the energy of Senior Night, and a stellar 12 save performance by Goaltender Maggie Cross, Canandaigua carried a 9-0 lead into halftime and remained steadfast in a more evenly matched 2nd Half to secure the victory. Hanna Davis led all scorers for the Braves with 5 goals, while Koehler Nieman (3g-1a) added a Hat Trick, Abbey Herod and Nola Weaver scored 2 goals a piece, and Liv Schorr netted 1while adding 2 assists and 2 Caused Turnovers. Other notable contributors for the Braves included Makenna Crouse, who secured 4 Draw controls, 2 GB's and Caused a Turnover, and Mya Herman, who once again locked down the opponent's leading scorer. Alexis Atwater (3g) scored a hat trick for the Bruins, and Ireland Mistretta added 2 goals, while Delaney McManus logged 2 helpers. [BOXSCORE]
FAIRPORT 3 - PITTSFORD 8 - Pittsford (12-3) broke open a tight game with four unanswered second-half goals on its way to an 8-3 win at Fairport. The Panthers close out their regular season when they host Schroeder on Friday. The Red Raiders look to bounce back Friday against Honeoye Falls-Lima. There were no statistics reported from either team at post time. [BOXSCORE]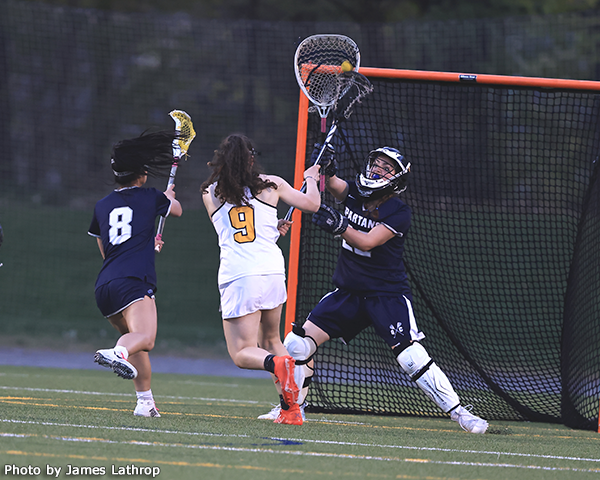 VICTOR 16 - RUSH-HENRIETTA 11 - Rush-Henrietta dropped its second game of the season, falling to Victor, 16-11. Victor is 14-1. The Royal Comets had strong games from Lena Cox (3g), Danielle Garrett (2g/1a), Avery Roberts (2g/1a/4dc), and Angelia Oechsle (8s). Victor concludes its regular season Saturday with a non-league match up against Baldwinsville (section 3). Rush-Henrietta hosts Thomas Friday. There were no statistics reported from Victor at post time. [BOXSCORE]
PENFIELD 4 - IRONDEQUOIT 9 - Irondequoit improved their record to 0.500 by beating Penfield tonight in Penfield. The final score was 9-4 as The Eagles more than doubled up Penfield. No book was submitted for either team at time of post. [BOXSCORE]
SPENCERPORT 17 - GATES CHILI 2 - Another Monroe County throttling took place in Spencerport tonight, as the Rangers easily defended their home turf, defeating Gates-Chili 17-3. Ruby DePalma (2g-4a) led all scorers for Spencerport, and Livia Fedele (5g) scored the most goals. Raquel Circhirillo and Molly Guzik each notched 2 goals and 1 assist amongst 10 different point scorers for the Rangers. Spencerport improves to 4-10 with the win. [BOXSCORE] There are also some game photos available.
CHURCHVILLE-CHILI 11 - EASTRIDGE 7 - Churchville-Chili picked up its seventh win of the season with an 11-7 decision over Eastridge. Alaina Reina had five goals and two assists, Sydney Bailey had two goals, and Madison Buck had three goals to lead the Saints, who host Penfield on Monday. Eastridge visits Bishop Kearney on Friday. There were no statistics reported from Eastridge at post time. [BOXSCORE]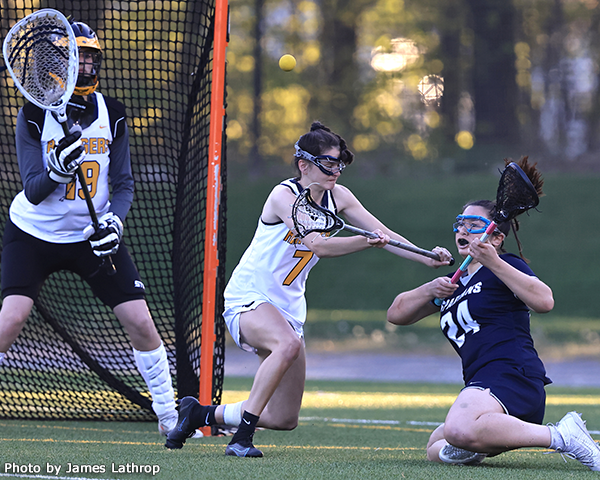 SCHROEDER 9 - THOMAS 8 - In a battle of Webster's, Schroeder rode a strong first half effort and held off Thomas' comeback attempt to hang on for a 9-8 nail biting victory. Kolbi Spencer scored 4 of Thomas' goals and Addison Schaeffer added 3, to account for the vast majority of the Titans scoring. No book was submitted for Schroeder at time of post. [BOXSCORE]
NEWARK-MIDLAKES 3 - WATERLOO 15 - Waterloo made the trip to Newark this evening and beat the Reds handily, 15-3. Leading Scorers for Waterloo included Marissa Russell (3g-2a), Isabella Bourne (4g) and Natalie DiSanto (3g-1a). With the win, Waterloo retains the top seed in class D at present. [BOXSCORE]
---
| | |
| --- | --- |
| on 05-24-2022 | The Information presented on this page has been submitted by a team coach, a team reporter or a SportsFive reporter. If there are errors or missing data, please contact the team's Head Coach. |