Section Five History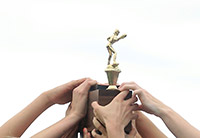 The Section Five Lacrosse Tournaments began in 1995 when Irondequoit defeated Penn Yan in an 11-10 overtime thriller and Penfield beat Webster 9-8.

In the early years there were only two tournament ( Classes A and B ). In 2005 New York State created a third class and Penn Yan was the first champion in Class C. Starting in 2017 there were four classes (A, B, C and D) and Pal-Mac became the first champion in Class D.
| YR | CL | CHAMP | OPP | SCORE | NOTES |
| --- | --- | --- | --- | --- | --- |
| 2022 | A | Rush-Henrietta | Pittsford | 9-3 | |
| 2022 | B | Victor | Canandaigua | 9-5 | |
| 2022 | C | HFL | Geneva | 18-8 | |
| 2022 | D | Pal-Mac | Aquinas | 9-8 | |
| 2021 | A | Pittsford | Rush-Henrietta | 7-6 | |
| 2021 | B | Canandaigua | Victor | 9-7 | |
| 2021 | C | HFL | Newark-Midlakes | 19-7 | |
| 2021 | D | Pal-Mac | Aquinas | 12-8 | |
| 2019 | A | Pittsford | Rush-Henrietta | 7-6 | |
| 2019 | B | Canandaigua | Spencerport | 9-8 | |
| 2019 | C | HFL | Eastridge | 14-7 | |
| 2019 | D | Pal-Mac | Mynderse-Romulus | 10-9 | |
| 2018 | A | Penfield | Rush-Henrietta | 8-6 | |
| 2018 | B | Brighton | Spencerport | 10-9 | |
| 2018 | C | HFL | Geneva | 20-7 | |
| 2018 | D | Pal-Mac | Penn Yan | 12-6 | |
| 2017 | A | Pittsford | Penfield | 6-3 | |
| 2017 | B | Canandaigua | Thomas | 11-6 | |
| 2017 | C | HFL | Mercy | 19-7 | |
| 2017 | D | Pal-Mac | Penn Yan | 16-5 | |
| 2016 | A | Pittsford | Fairport | 11-6 | |
| 2016 | B | Victor | Spencerport | 18-12 | |
| 2016 | C | HFL | Pal-Mac | 14-7 | |
| 2015 | A | Pittsford | Penfield | 7-6 | |
| 2015 | B | Victor | Thomas | 10-7 | |
| 2015 | C | HFL | Penn Yan | 12-10 | |
| 2014 | A | Pittsford | Penfield | 10-9 | |
| 2014 | B | Victor | Brighton | 8-7 | |
| 2014 | C | HFL | Penn Yan | 14-9 | |
| 2013 | A | Penfield | Pittsford | 10-9 | |
| 2013 | B | Brighton | Canandaigua | 10-9 | |
| 2013 | C | HFL | Waterloo | 19-14 | |
| 2012 | A | Penfield | Pittsford | 8-7 | |
| 2012 | B | Canandaigua | Irondequoit | 14-7 | |
| 2012 | C | HFL | Waterloo | 17-7 | |
| 2011 | A | Pittsford | Penfield | 10-9 | |
| 2011 | B | Brighton | Irondequoit | 12-5 | |
| 2011 | C | Marcus Whitman | Geneva | 7-5 | |
| 2010 | A | Pittsford | Penfield | 13-5 | |
| 2010 | B | Canandaigua | Victor | 20-4 | |
| 2010 | C | HFL | Penn Yan | 9-6 | |
| 2009 | A | Fairport | Penfield | 14-13 | |
| 2009 | B | Canandaigua | Brighton | 10-9 | |
| 2009 | C | HFL | Penn Yan | 14-7 | |
| 2008 | A | Rush-Henrietta | Fairport | 8-6 | |
| 2008 | B | Brighton | Canandaigua | 14-8 | |
| 2008 | C | HFL | East Rochester | 10-9 | |
| 2007 | A | Penfield | Rush-Henrietta | 9-7 | |
| 2007 | B | Brighton | Canandaigua | 9-4 | |
| 2007 | C | East Rochester | Penn Yan | 7-3 | |
| 2006 | A | Thomas | Penfield | 10-8 | |
| 2006 | B | Brighton | Mercy | 19-3 | |
| 2006 | C | Penn Yan | East Rochester | 9-5 | |
| 2005 | A | Rush-Henrietta | | - | |
| 2005 | B | Brighton | | - | |
| 2005 | C | Penn Yan | | - | |
| 2004 | A | Brighton | | - | |
| 2004 | B | Penn Yan | | - | |
| 2003 | A | Brighton | | - | |
| 2003 | B | East Rochester | | - | |
| 2002 | A | Brighton | | - | |
| 2002 | B | East Rochester | | - | |
| 2001 | A | Brighton | | - | |
| 2001 | B | Penn Yan | | - | |
| 2000 | A | Brighton | | - | |
| 2000 | B | East Rochester | Mercy | 16-9 | |
| 1999 | A | Brighton | | - | |
| 1999 | B | Penn Yan | | - | |
| 1998 | A | Brighton | Irondequoit | 11-7 | |
| 1998 | B | Penn Yan | | - | |
| 1997 | A | Penfeild | Irondequoit | 8-7 | |
| 1997 | B | Penn Yan | | - | |
| 1996 | A | Irondequoit | | - | |
| 1996 | B | Penn Yan | | - | |
| 1995 | A | Penfield | Webster | 9-8 | |
| 1995 | B | Irondequoit | Penn Yan | 11-10 | OT |
Championship Totals
| | # | Team | YEAR of LAST CHAMPIONSHIP |
| --- | --- | --- | --- |
| | 14 | Brighton | 2018 in Class B |
| | 13 | HFL | 2022 in Class C |
| | 8 | Penn Yan | 2006 in Class C |
| | 8 | Pittsford | 2021 in Class A |
| | 6 | Canandaigua | 2021 in Class B |
| | 5 | Pal-Mac | 2022 in Class D |
| | 5 | Penfield | 2018 in Class A |
| | 4 | East Rochester | 2007 in Class C |
| | 4 | Victor | 2022 in Class B |
| | 3 | Rush-Henrietta | 2022 in Class A |
| | 2 | Irondequoit | 1996 in Class A |
| | 1 | Fairport | 2009 in Class A |
| | 1 | Marcus Whitman | 2011 in Class C |
| | 1 | Penfeild | 1997 in Class A |
| | 1 | Thomas | 2006 in Class A |
---
| | |
| --- | --- |
| on 10-04-2023 | The Information presented on this page has been submitted by a team coach, a team reporter or a SportsFive reporter. If there are errors or missing data, please contact the team's Head Coach. |