Wednesday - All Close Games
There were four games played on the third day of the sectionals and they were really good ones. Aquinas won a 12-11 game from Penn Yan, R-H won a 9-8 game with Penfield, Pittsford won a 10-9 game with Fairport and Pal-Mac won an 8-6 game with waterloo.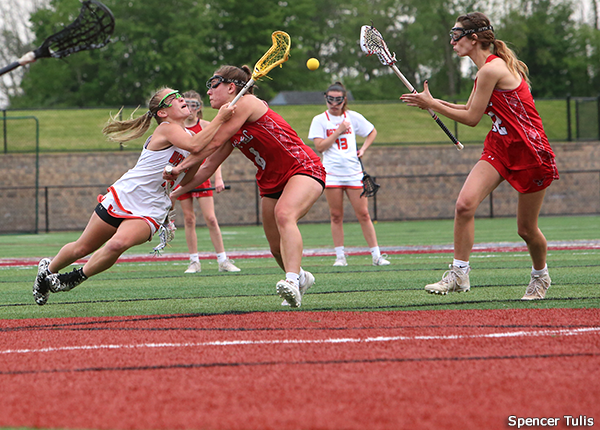 AQUINAS 12 - PENN YAN 11 - SEMI - In Class D Sectional Semifinal action at Newark, The top-seeded Aquinas Lil Irish narrowly defeated the Penn Yan Mustangs 12-11. The game was knotted at 6 at halftime, however Aquinas was able to outlast Penn Yan in the second half to secure a berth into the Championship game. Corinne Barden (3g-1a) and Bailey Cooper (3g-1a) led the final effort of the season for the Mustangs, while Jammie Decker (2g), Kaley Griffin and Avery Castner (2a) also posted multi-point games. No Book was submitted for Aquinas at time of post. [BOXSCORE]
RUSH-HENRIETTA 9 - PENFIELD 8 OT - SEMI - In the first of two Class A Overtime thrillers, Rush Henrietta rode an early offensive flurry, combined with an 8-meter goal by Lena Cox with just 10 seconds remaining in the first overtime period to cap a dominant 5-goal performance by the Junior Attacker, earning their spot in the Class A Final. Rush Henrietta led at halftime 6-3, and weathered a spirited comeback effort from the Penfield Patriots for the 9-8 Overtime win. Avery Roberts added 3 goals for Rush Henrietta to complement Cox's outburst. No Book was submitted for Penfield, who made a valiant effort and nearly pulled off the upset. [BOXSCORE]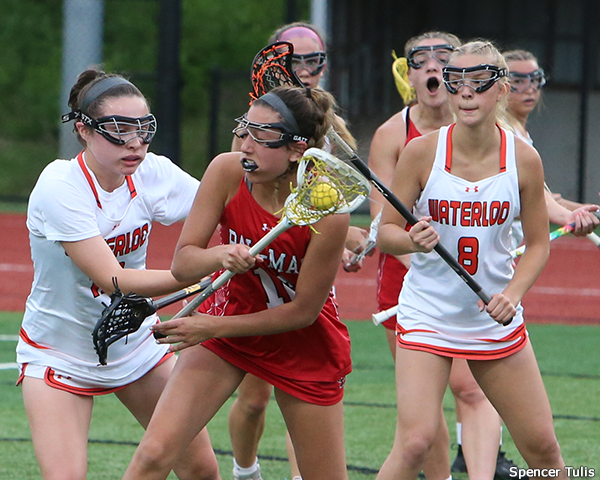 PITTSFORD 10 - FAIRPORT 9 - SEMI - Class A's other Semi-Final also required extra time to decide would face the Royal Comets in the Championship Game. Ultimately Pittsford won on a unorthodox goal as the ball crossed Fairport's goal line just as time was about to expire in the third Overtime Period. Neither team could find much breathing room throughout the back and forth contest, and the regulation ended in a 9-9 Tie. However Pittsford's Overtime Tally gave them a 10-9 Victory, and a chance to defend their 2021 Sectional Title. Playing the role of underdog, Fairport gave the defending Champion Pittsford Panthers all they could handle behind 3 goals from Lily Kondas, 1 goal and 4 assists from Morgan Wrobbel, and 2 goals apiece for Ella Peers and Katie Mallaber. Jaelyne Twomey turned away 7 Pittsford shots for the Red Raiders in goal. Ava Peers won 6 Draw Controls and picked 4 additional Groundballs for Fairport. No Book was submitted for the victorious Panthers at time of post. [BOXSCORE]
WATERLOO 6 - PAL-MAC 8 - SEMI - Class D's other Sectional Semifinal featured another tight match-up between Pal-Mac and Waterloo. This game was also tied 3-3 at the half. Pal-Mac came away as the victor after a strong second half propelled them to a 8-6 win, earning them the right to face Aquinas in the Title game. For Pal-Mac, Reagan Diehl (3g-2a), and Teagan Hudak were the offensive standouts propelling the Red Raiders to victory, while Molly Seither provided Pal-Mac with valuable extra possessions securing 4 Draw Controls, 4 GB's and Causing 1 Turnover. For Waterloo, Marissa Russell (3g) notched a Hat Trick while Maci Mueller (1g-1a) and Tabatha Winter (1g-1a) scored 2 points a piece as the Indians tried in vain to extend their season. [BOXSCORE] There are also some game photos available.
---
| | |
| --- | --- |
| on 02-06-2023 | The Information presented on this page has been submitted by a team coach, a team reporter or a SportsFive reporter. If there are errors or missing data, please contact the team's Head Coach. |