Pal-Mac and Victor Win Championships
The Championships for Classes B and D were won tonight as #3 Pal-Mac beat #1 Aquinas 9-8 and top-seeded Victor won their game with #2 Canandaigua 9-5.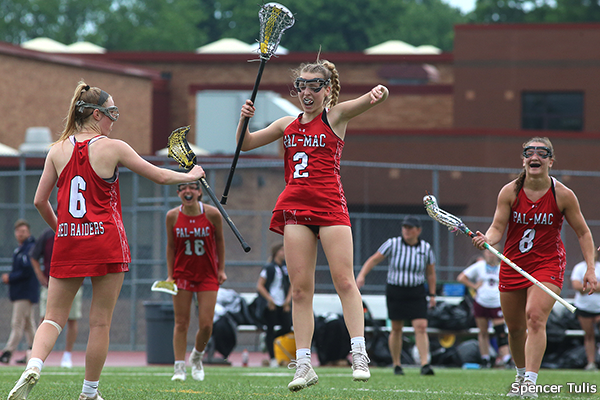 PAL-MAC 9 - AQUINAS 8 - CHAMPIONSHIP - Pal-Mac captured its fifth consecutive class D title by the narrowest of margins, defeating Aquinas by a score of 9 to 8. With just over a minute left in the second half, ninth-grader Jenna Santelli (2g/1a) tied the game at eight off a free position. Less than 50 seconds later, Molly Seither (2g) scored the go-ahead goal off a feed from Reagan Diehl (3g/1a). The Little Irish won the ensuing draw but Faith Beals (4s) turned aside a final attempt and the Red Raiders secured the ball and ran out the clock. Kylie Waeghe recorded six draw controls for Pal-Mac. Aquinas finishes at 14-5. There was no report from Aquinas at post time. [BOXSCORE] There are also some game photos available.
VICTOR 9 - CANANDAIGUA 5 - CHAMPIONSHIP - There were no reports from either team at post time. [BOXSCORE]
---
| | |
| --- | --- |
| on 02-06-2023 | The Information presented on this page has been submitted by a team coach, a team reporter or a SportsFive reporter. If there are errors or missing data, please contact the team's Head Coach. |