Tuesday: Spencerport #6 defeats Mercy #3 16-11
DAY IN REVIEW: TUESDAY - There were quarter-final games today and in Classes C and the seeds held, so that the top four seeds advance to the semi-finals. Pal-Mac, Aquinas, HF-L and Geneva advance to play at Waterloo on Thursday. In Class B Spencerport, the number 6 seed defeated the number 3 seed, Mercy, 16-11 so the Rangers advance along with Canandaigua, Irondequoit and Victor for their semi-final round at Pittsford Sutherland on Thursday.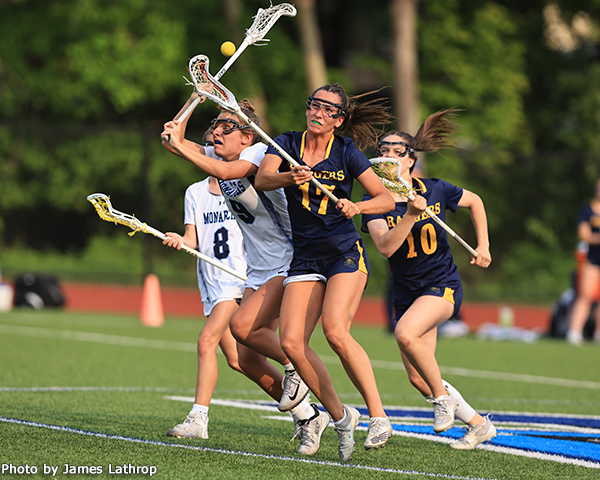 SPENCERPORT-16 at MERCY-11 in a Sect V Quarterfinal game - Spencerport outlasted Mercy 16-11 to earn the right to move on to the Class B Semi-final, where they will play the Victor Blue Devils. Junior Molly Guzik starred for Spencerport, scoring 7 goals and dishing out 2 assists, while also collecting 7 Draw controls and 7 Ground Balls. No Book was submitted for Mercy at time of post. [ BOX SCORE] - - More images in the photo gallery.
BRIGHTON-5 at IRONDEQUOIT-9 in a Sect V Quarterfinal game - Irondequoit exacted revenge on the Brighton Bruins in sectional play this evening, evening a mid-season loss, by dispatching Brighton 9-5, and advancing to the Semi-finals, where they will face top-seeded Canandaigua. The Eagles opened up a 7-2 lead in the first half and held off a mild Brighton second half comeback effort to secure the victory and advance. Senior Elise Murphy and Junior Lucy Lederman each completed their 2023 campaigns with 2 goal efforts for the Bruins. No Book was submitted for Irondequoit at time of post. [ BOX SCORE]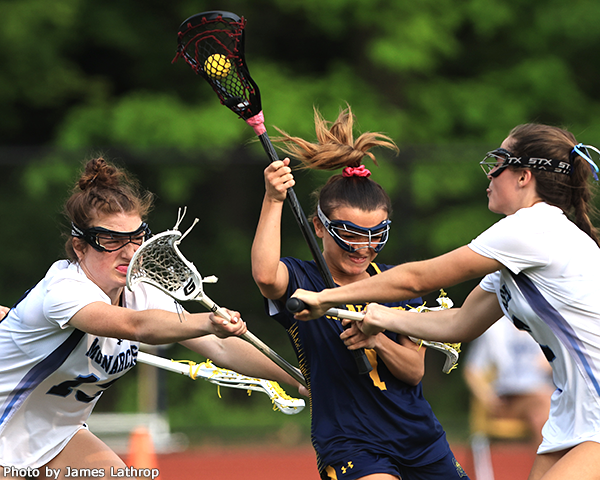 THOMAS-7 at VICTOR-10 in a Sect V Quarterfinal game - Victor edged out Webster Thomas 10-7 in Class B Quarterfinal play tonight. No book was submitted for either team at time of post. Victor advances to play Spencerport on Thursday in the Semi-final at Pittsford Sutherland. [ BOX SCORE]
EASTRIDGE-2 at PAL-MAC-19 in a Sect V Quarterfinal game - With the victory, No. 1 seed Pal-Mac (13-4) advanced to the class C semifinals. Leading the scoring for the Red Raiders were Anna Priebe (4g/2a), Molly Seither (1g/3a), and Jenna Santelli (3g/1a); sophomores Elise Tome and Makenzie Miller each scored her first varsity goal. Ada Krupa (1g/1a) and Bella Denaro (1g) provided the only scoring for the Lancers, who ended their season at 5-13. [ BOX SCORE]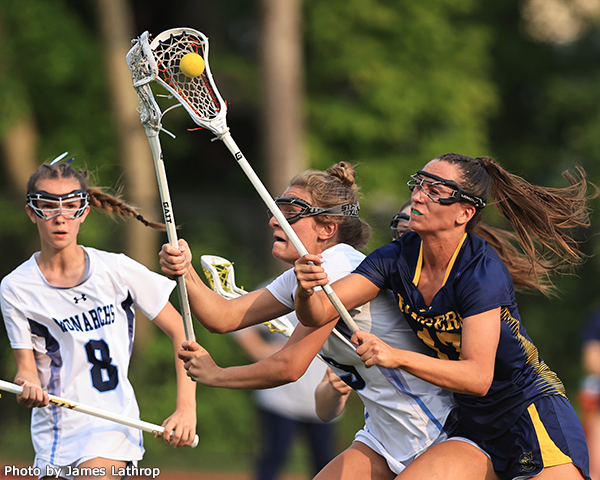 SCHROEDER-4 at CANANDAIGUA-19 in a Sect V Quarterfinal game - In Class B, the top seed, Canandaigua dominated tonight in quarterfinal play, defeating Webster Schroeder 19-4 to advance to the semi-finals. Canandaigua was paced by Sophomore Nola Weaver who scored 6 goals and dished out 2 assists. With 19n goals scored, there were many contributors for the Braves, however after Weaver, Liv Schorr (5g-1a) and Leah Sheridan (3g-2a) were most prolific. Notably, Makenzie Taft made 4 saves and allowed zero goals in relief duty late in the game for the Braves. No Book was submitted for Schroeder at time of post and Canandaigua will face Irondequoit on Thursday with a bid to the Class B Final on the line. [ BOX SCORE]
WAYNE-4 at AQUINAS-16 in a Sect V Quarterfinal game - No. 2 seed Aquinas built a 14-0 halftime lead and cruised to its thirteenth victory of the season against four defeats. Sienna Hinchcliffe led the offensive onslaught for Aquinas with six goals and two assists; she also recorded five draw controls and four caused turnovers. Gianna Leonardi and Savannah Hinchcliffe each had three goals for the Little Irish, and Ryan Springer contributed two more, including the 50th of her varsity career. Isabella Veltre scored two goals for the Eagles from Wayne, who concluded their season at 6-11. [ BOX SCORE]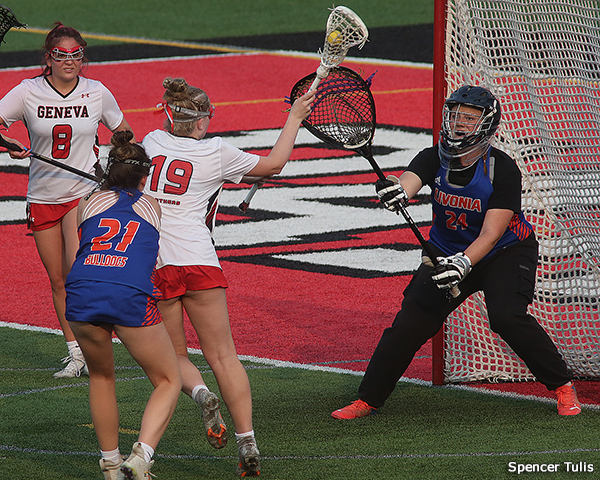 LIVONIA-AVON-14 at GENEVA-19 in a Sect V Quarterfinal game - In this high-scoring contest, Geneva's Allyson Bucklin (4g), Allie Good (6g/2a), Isabella Bonventre (4g), and Megan Forbes (4g/1a) provided all the goals that the Panthers would need. For Allyson Bucklin, her goals were the first of her varsity career. Mikayla Myer had four assists for the No. 4 Panthers, who look for their sixth consecutive win when they face top-seeded Pal-Mac on Thursday. There were no statistics reported from Livonia-Avon (7-10) at post time. [ BOX SCORE]
NEWARK-MIDLAKES-4 at HONEOYE FALLS-LIMA-18 in a Sect V Quarterfinal game - Clare Ruff scored six goals, including the 100th of her varsity career, to lead No. 3 seed HF-L (10-7). Goaltender Lily Brady also reached a milestone with her 300th career save. Katie Adams, Marlee Green, and Camryn Trybuskiewicz chipped in two goals apiece for the Cougars, who face Aquinas in a class C semifinal matchup Thursday. There were no statistics reported from Newark-Midlakes (6-11) at post time. [ BOX SCORE]
---
| | |
| --- | --- |
| on 06-07-2023 | The Information presented on this page has been submitted by a team coach, a team reporter or a SportsFive reporter. If there are errors or missing data, please contact the team's Head Coach. |