Fairport Wins Class A in OT - Penn Yan Wins in Class D
DAY IN REVIEW: TUESDAY - The first day of the Section V championships ended today with an Overtime win for Fairport and a 12-4 win for Penn Yan.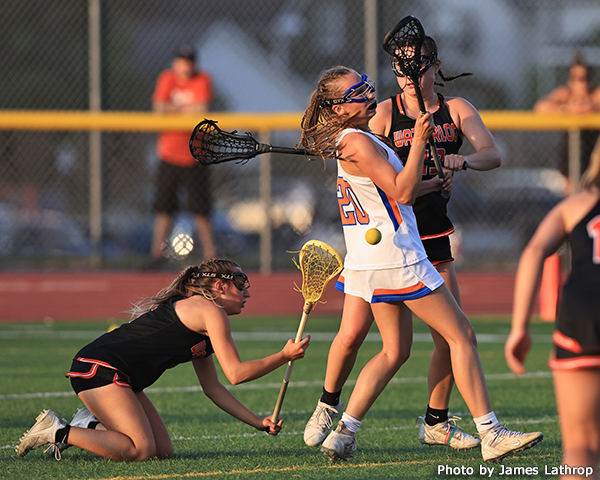 FAIRPORT-6 at RUSH-HENRIETTA-5 in a Sect V Championship game - Ella Peers (2g) scored an unassisted goal with four seconds remaining in the first three-minute overtime period to give Fairport (16-2) its first sectional title since 2009. Makayla Keys (1g/1a) scored the goal for the Red Raiders that sent the game into overtime. Ellie Miller chipped in two goals for Fairport, while tournament MVP Jaelyne Twomey (12s) and the Red Raiders' stifling defense helped to keep Rush-Henrietta's high-powered attack at bay. Seniors Avery Roberts (3g) and Lena Cox (2g) accounted for all the scoring for the Royal Comets, who finished their season with a record of 16-2. The Red Raiders advance to the Regionals where they will play Lancaster (VI) Saturday afternoon at Clarence High School. [ BOX SCORE]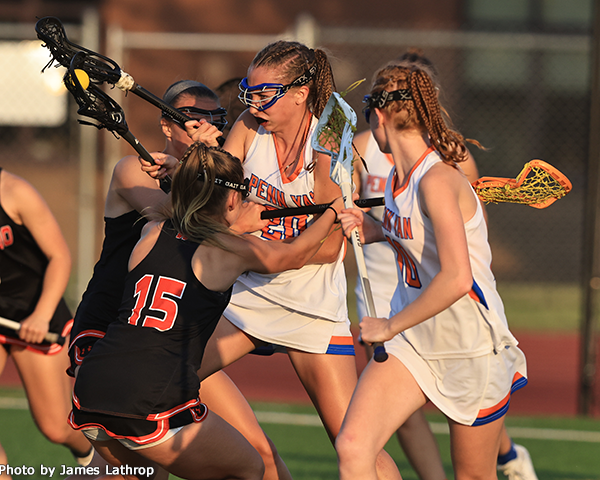 WATERLOO-MARCUS WHITMAN-4 at PENN YAN-12 in a Sect V Championship game - After a 5-3 first half, the Mustangs outscored Waterloo-MW 7-1 in the last half to win their ninth title, and first since 2006. Leading the scoring for Penn Yan (14-4) were sophomore midfielder Maihue Miranda-Wiltberger (3g), sophomore attacker Corinne Barden (1g-1a), junior midfielder Taylor Mullins (2a), freshman midfielder Bailey Cooper (2g), and freshman attacker Gianna Voigt (1g). Wiltberger reached her 50th goal with her 3 goals (now 50g). In the goal for Penn Yan was sophomore Marion Wheeler with 5s/4ga = 56% (50 mins).
Scoring for Waterloo-Marcus Whitman (11-6) were senior midfielder Natalie Disanto (2g), freshman midfielder Maci Mueller (1g-1a), and junior midfielder Giana Delucia (1g). [ BOX SCORE] - - More images in the photo gallery.
---
| | |
| --- | --- |
| on 10-04-2023 | The Information presented on this page has been submitted by a team coach, a team reporter or a SportsFive reporter. If there are errors or missing data, please contact the team's Head Coach. |