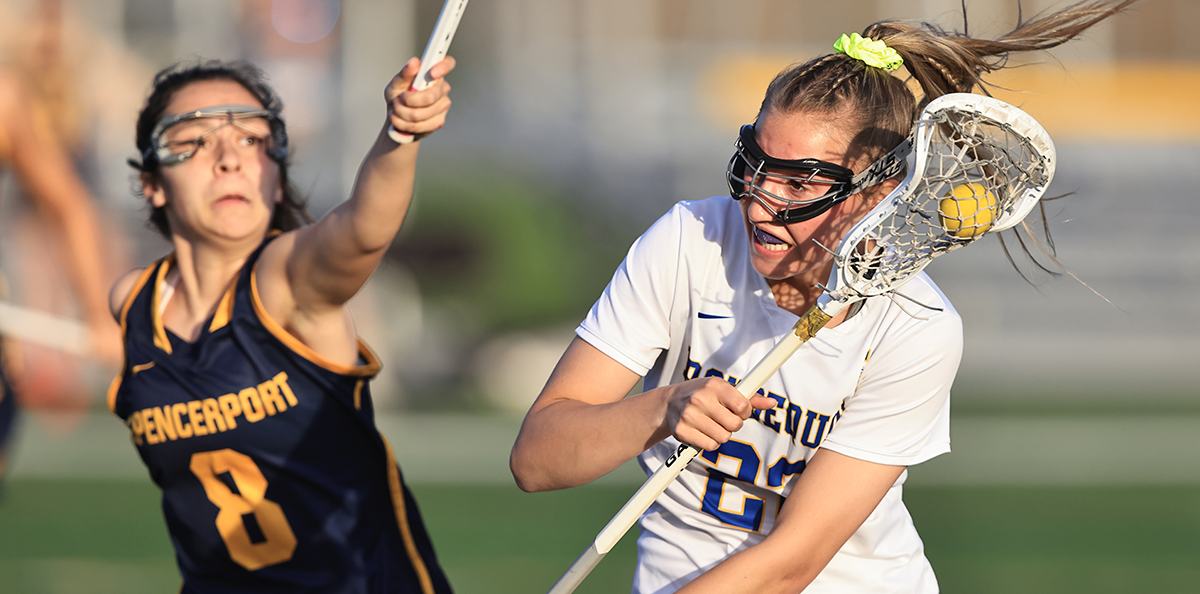 Monday - Rush-Henrietta over Canandaigua
There were fourteen games played on Monday. Most games were mismatches, but R-H had a 13-12 win over CA and Wayne had a 12-10 win over Marcus Whitman. Victor beat Brighton 11-8 and Corning beat Penn Yan 1208.
GREECE STORM 10 - SCHROEDER 16 - Webster Schroeder traveled to Arcadia tonight and evened their record to 6-6 with a 16-10 victory over Greece. Schroeder asserted their dominance in the first half, taking a 13-1 lead. Greece battled back to make final more presentable behind 4 goals from Alison Dioguardi, 3 goals and 2 assists by Mara Misiurewicz, and 2 goals, 2 assists for Mackenzie Gibaud. Multiple girls had strong games for Schroeder, including Ava Dossier (2g-4a), Kylee Race (3g-1a), Anna Rogers (4g-1a), and Stefanie Sellitto (3g). [BOXSCORE] There are also some game photos available.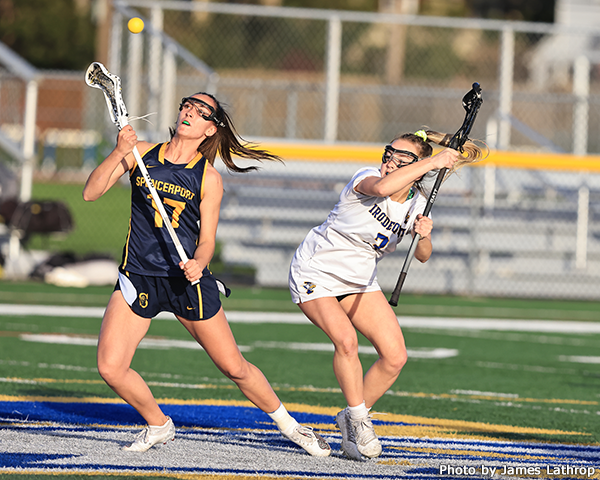 RUSH-HENRIETTA 13 - CANANDAIGUA 12 - Rush Henrietta defended their home field against Canandaigua this evening. The Braves were strong early, building a 10-7 lead at the half, however Henrietta's defense stifled Canandaigua, allowing only two 2nd half goals and erased the halftime deficit, taking their first lead of the game with under 30 seconds remaining in the game. Rush Henrietta scored 6 of their goals from the 8-meter Arc and assembled a typically balanced offensive game with Ally Garrett scoring 3 goals, and Avery Roberts, Ashlynn Roberts, Catrina Rowe, Megan Schillinger and Lena Cox scoring 2 goals a piece. Angelina Oechsle made 10 saves in goal for the Royal Comets. Hanna Davis scored 6 goals and Liv Schorr scored 3 in a losing effort for the Braves. [BOXSCORE]
PAL-MAC 18 - NEWARK-MIDLAKES 6 - Pal-Mac tripled up Newark-Midlakes 18-6 at Pal-Mac. The Red-Raiders rode 5 goals performances by Reagan Diehl (5g-3a), and Kylie Waeghe (5g-1a), and also saw Molly Seither (2g-3a) post 5 points of her own. Diehl and Waeghe also dominated on the circle, collecting a total of 14 draw controls between them. Pal-Mac was dominant throughout the game, and the win improved them to 10-3. Kate Mahoney scored 2 goals for Newark-Midlakes, while Jenna Havert distributed 3 assists. [BOXSCORE]
WAYNE 12 - MARCUS WHITMAN 10 - [ UPDATED ] The Wayne eagles beat the Whitman Wildcats 12-10. Wayne won the hotly contested match-up with 4 goals a piece from Marley Hewitt and Madelyn Hillman. Riley Simpson also posted 1 goal and 1assist, and Abby Brown was her reciprocal scoring 1 goal while dishing out 2 assists. Olivia Herod led a valiant effort with 4 goals and 2 assists, but the Wildcats came up just short, dropping their record to 3-8. [BOXSCORE]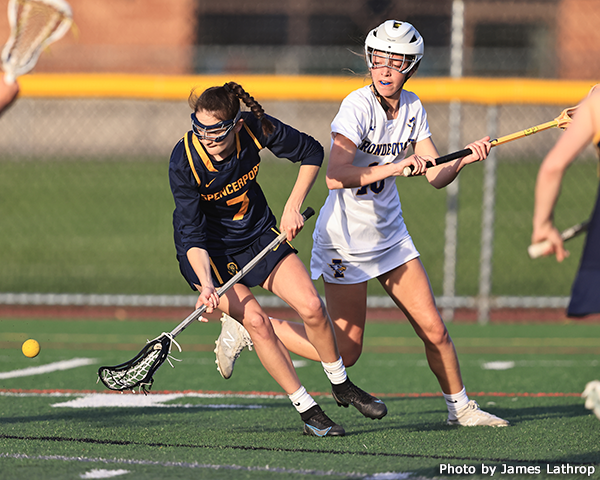 GENEVA 17 - MYNDERSE-ROMULUS 5 - Geneva soundly defeated Mynderse-Romulus 17-5 in Geneva this evening. Geneva did the majority of their scoring in the first half, with Allie Good (6g-4a) and Rylie McGhan (5g) being the most prolific Panthers on the evening. Mikayla Myer (3g) also notched a Hat Trick. Rylie McGhan also earned 9 Draw Controls for Geneva. Kelly Kohberger (2g-1a), and Chelsea Korzeniewski (1g-1a) were multi-point scorers for Mynderse-Romulus. [BOXSCORE]
HILTON 1 - PENFIELD 16 - Penfield pummeled Hilton 16-1 tonight. Danielle Mojsej scored Hilton's lone goal. Penfield is now 5-8, and Hilton falls to 3-10. No book was submitted for Penfield at time of post. [BOXSCORE]
WATERLOO 14 - GANANDA-MARION 2 - Waterloo demolished Gananda-Marion by a score of 14-2. Waterloo saw 11 different players score points, with the highest scorers being Tabatha Winter (1g-4a), and Isabella Bourne (3g-1a). No Book was submitted for Gananda-Marion at time of post. [BOXSCORE]
CORNING 12 - PENN YAN 8 - Penn Yan went out of Section tonight to play Corning in Corning. Corning was able to defeat Penn Yan 12-8. Bailey Cooper (2g-3a) scored five points for the Mustangs, and also grabbed 4 Draw Controls and 2 GB's. [BOXSCORE]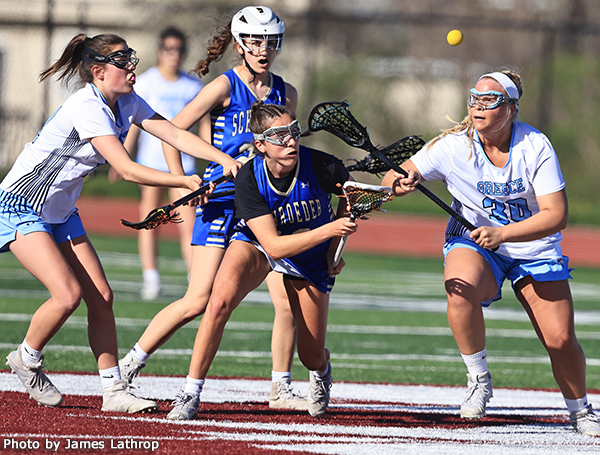 IRONDEQUOIT 16 - SPENCERPORT 9 - Irondequoit beat Spencerport 16-9 tonight. Spencerport's Alyssa Nichols (4g), and Molly Guzik (3g-1a) each had 4-point nights, as the Rangers tried in vain to hang with the Eagles. Irondequoit is now 6-7 on the season and Spencerport is 3-10. No book was submitted for Irondequoit at time of post. [BOXSCORE] There are also some game photos available.
VICTOR 11 - BRIGHTON 8 - Brighton traveled to Victor tonight in a tough Class B Monroe County match-up. Victor started the game hot, building an 8-2 halftime lead. Brighton halved the Blue Devlis 6-goal cushion by winning the second half 6-3, however Victor was able to hold on for a 3 goal victory. No book was submitted for either team at time of post. [BOXSCORE]
LIVONIA-AVON 13 - BROCKPORT 7 - Livonia-Avon nearly doubled-up Brockport 13-7 at Livonia. Eighth-grader Sidney Clickner went off for 5 goals, 4 Draw Controls and 6 GB's in Livonia-Avon's convincing win. Kylie Buckley (3g-1a), and Kelsey Stewart (2g-1a) also posted strong offensive efforts, while Goalie, Mia Martucio saved 10 shots in 44 minutes for an impressive 77% save percentage. [BOXSCORE]
EASTRIDGE 7 - AQUINAS 17 - Aquinas beat Eastridge 17-7. No Book was submitted for either team at time of post. [BOXSCORE]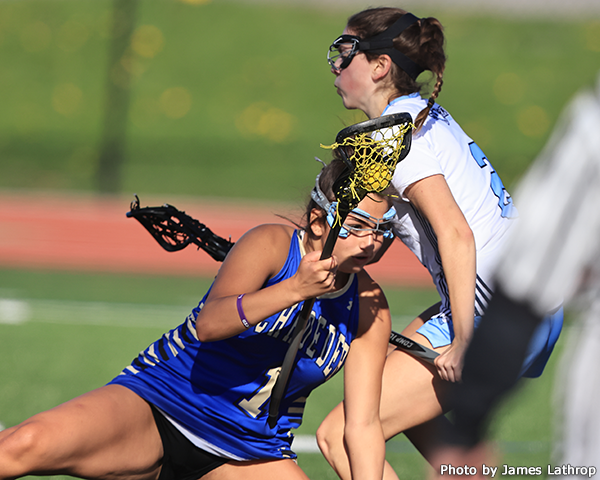 FAIRPORT 16 - GATES CHILI 0 - Fairport blanked Gates-Chili 16-0, to climb to 8-5 on the season. The loss drops Gates-Chili to 1-8. Ella Peers (4g-3a) scored seven points for Fairport in the rout, while Abby Bradford (4a) and Morgan Wrobbel (1g-5a) also proved to be adept distributors for the Red Raiders. Freshman Lily Kondas won 4 Draw Controls, and scored 2 goals as well. No book was submitted for Gates-Chili at time of post. [BOXSCORE]
THOMAS 16 - CHURCHVILLE-CHILI 2 - Nine players contributed to the score as the Titans posted 13 goals in the first half. Leading the list were Maddie Quinn and Addison Schaeffer who each scored 3g for Thomas (7-4) who will play Schroeder on Wednesday. Sydney Bailey and Maddison Buch scored for the Saints (6-8) who will play Eastridge on Wednesday. [BOXSCORE]
---
| | |
| --- | --- |
| on 05-24-2022 | The Information presented on this page has been submitted by a team coach, a team reporter or a SportsFive reporter. If there are errors or missing data, please contact the team's Head Coach. |